Scott Birdsall of Chuckles Garage is no stranger to getting his hands dirty. Whether it's restoring hot rods, performing race prep, or chassis engineering—he's done it in his shop. "We always have some sort of crazy project," he commented.
Birdsall has been building cars for around twelve years, and racing for two decades. It was several years ago that he purchased a 1949 Ford F1 pickup which had been rediscovered in an overgrown lot. It was a mess—full of animal nests, rust, and debris.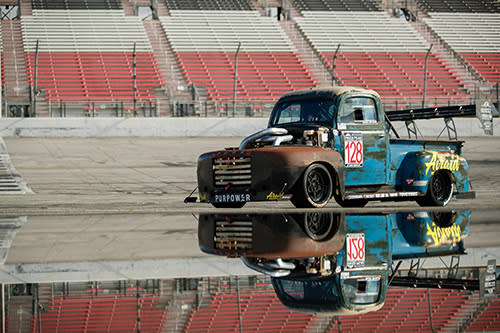 "When I get bored sometimes, I'll look on Craigslist for stuff that I can buy really cheap and flip. So that truck came up and I bought it for $225 but it started to grow on me, so I kept it. I wanted to make a reliable shop truck out of it. But one modification led to another, and eventually it turned into a full-on race truck."
Birdsall installed a 12-valve Cummins diesel from an old Dodge pickup. "I wanted a reliable shop truck that I could drive anywhere and use to tow and haul. I put a diesel in the truck to be able to use it. But I'm a hot rodder, so you know; a diesel with a turbo is cool, but a bigger turbo is even cooler!"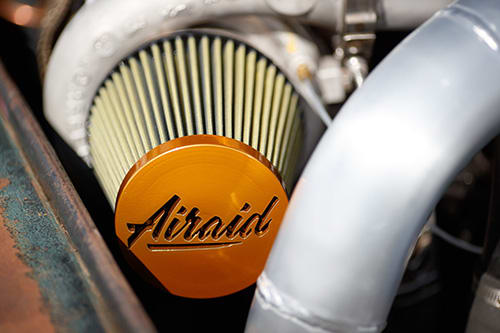 Eventually, Birdsall opted to upgrade to a newer 5.9L Cummins—allowing for some high-tech tuning with a laptop. The truck, now known affectionately as "Old Smokey", features a compound turbo setup that uses an exhaust-driven 80mm Garrett GTX5008 turbocharger to a feed an additional 94mm Garrett GTX5533 turbo. From there, 105 psi of air charge makes its way through a Bell intercooler before finally reaching the Cummins diesel engine—which is fed by bio-diesel fuel. The result? 1,463-horsepower at the crankshaft, and 1,233 horsepower at the rear wheels.
And all that power isn't just for show. Birdsall and Old Smokey now hold the world record in the diesel half-mile, and race yearly at Pikes Peak International Hill Climb.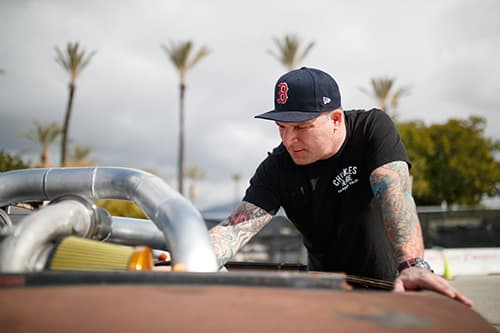 In order to accommodate the massive amount of power produced, the 1949 Ford has a custom racecar chassis hidden beneath its bodywork. AIRAID helped Scott create a carbon fiber splitter, diffuser, and underbody panels. And, of course, a high-performance washable reusable AIRAID air filter helps increase the volume of air reaching the turbos. "We've been using AIRAID filters since 2016 on Old Smokey, and they're awesome—really low restriction compared to some of the other filters we've used."
"We're excited to be sponsoring Old Smokey for 2019," commented Steven duBois, AIRAID's Brand Manager. "It's awesome to collaborate with builders and drivers who love finding the limits of power as much as we do. We wish Scott the very best next weekend as he competes at Pikes Peak, and we will be there to support and discuss AIRAID products with fans."
Look for Scott Birdsall and Old Smokey (#128) at the 97th Pikes Peak International Hill Climb on Sunday, June 30.