Following the Pikes Peak International Hill Climb, Airaid followed up with Scott Birdsall to get his impressions of the event—and to discuss what comes next this year.
"We had a rough time following practice," Scott commented. Unfortunately, Old Smokey suffered engine failure during a practice run, which resulted in three days of limited sleep for Birdsall and his team as they worked on an engine swap. Remarkably, they were able to bounce back—and Old Smokey achieved the fastest Section 1 qualifier ever for a diesel.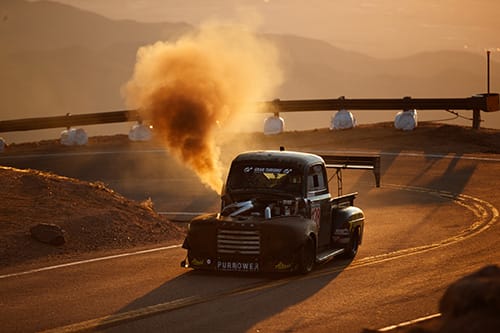 Unfortunately, the weather on race day was extremely poor, resulting in limited visibility and traction. Birdsall was unable to complete the course as a result, but assured us that he has every intention of returning for the 2020 race, and will continue to stay busy until next year's Pikes Peak event. "In October, I'm trying to push my existing diesel land speed record up higher—my goal is 180 mph in the half mile," he said.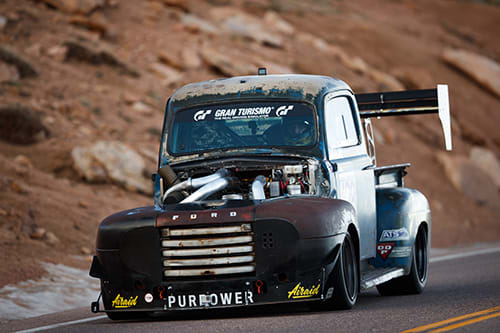 The Broadmoor Pikes Peak International Hill Climb (PPIHC) (also known as The Race to the Clouds) is an invitational automobile hill climb to the summit of Pikes Peak in Colorado, and is America's second oldest auto race. Founded in 1916, the course features over twelve miles of hairpin turns and 4700+ feet of elevation change.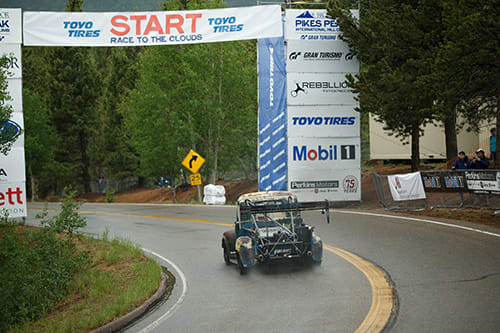 "It's a legendary place to race," Birdsall commented. "I've wanted to race there ever since I was a little kid."
A Pikes Peak veteran, Birdsall assures us that he will return each year for as long as he can. "I'll keep coming back as long as they let me," Birdsall commented. "Pikes Peak is especially gnarly. There's no barrier, no run-off—just trees, cliffs, and rocks. I love the challenge of it. It's not like any other racetrack."
Birdsall is the owner of Chuckles Garage, and has now been racing for over two decades. "Before I started my race shop, I had a corporate job. It was the worst job I've ever had in my life," Birdsall said with a laugh. "I took all my savings and jumped into my race shop with two feet. It all worked out."
It was several years ago that he purchased a 1949 Ford F1 pickup which had been discovered in an overgrown lot. Birdsall installed a 12-valve Cummins diesel from an old Dodge pickup, and eventually upgraded to a newer 5.9L Cummins—allowing for some high-tech tuning with a laptop. Now known as "Old Smokey", the truck also features a compound turbo setup that uses an exhaust-driven 80mm Garrett GTX5008 turbocharger to a feed an additional 94mm Garrett GTX5533 turbo. From there, 105 psi of air charge makes its way through a Bell intercooler before finally reaching the Cummins diesel engine, producing 1,463-horsepower at the crankshaft, and 1,233-horsepower at the rear wheels.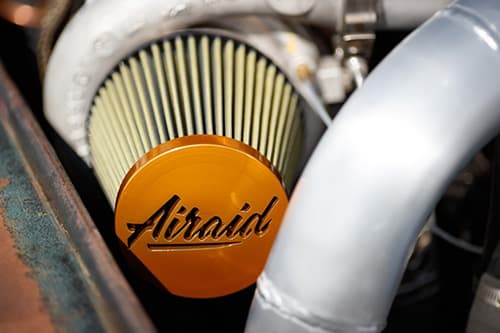 In order to accommodate the massive amount of power produced, the 1949 Ford has a custom racecar chassis hidden beneath its bodywork. Airaid helped Scott create a carbon fiber splitter, diffuser, and underbody panels. And, of course, a high-performance Airaid air filter helps increase the volume of air reaching the turbos. "Airaid filters are awesome—really low restriction compared to some of the other filters we've used," Birdsall commented. "What I need is something to stop big stuff from getting in my engine. Airaid made me a custom, mesh-only air filter."
"We're thrilled to be working with Scott this year," commented Steven du Bois, Airaid's Brand Manager. "He's an incredible builder and racer, with a passion for ingenuity that we share. Airaid is all about awesome innovations and engineering, but also about taking all of that power to the pavement."