AIRAID® Track Day & Race Day Filters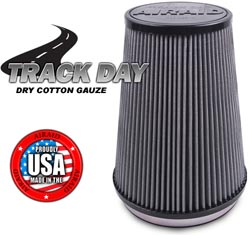 High-performance engines have enormous airflow needs, and racers are always looking for a little something extra that will give them an edge over the competition. AIRAID's new Track Day and Race Day filters were built with racers in mind. Track Day Filters are designed for all-out air flow while maintaining particulate protection. For those wanting superior airflow on Race Day, then AIRAID's Race Day Filters are for you. These filters are legal in California only for racing vehicles which may never be used, registered, or licensed for use upon a highway. See airaid.com for CARB status on each part for a specific vehicle.
AIRAID Track Day Filters
Track Day Filters feature the same quality construction as our regular air filters, including sturdy polyurethane casings, wire mesh construction, and layers of high flow cotton gauze. They are designed to provide restriction-free airflow while still maintaining adequate filtration. Track Days Filters are shipped dry but can be oiled by the end user if desired.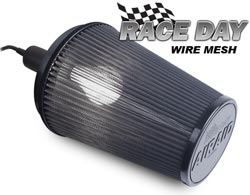 AIRAID Race Day Filters
Race Day Filters are designed strictly to keep large debris out of the engine. Constructed with sturdy polyurethane casings and a durable wire mesh screen, they are built without any filtration media. Race Day Filters are intended for race day only and should only be used on concrete or asphalt racing surfaces such as a drag strip or road course.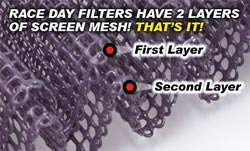 Both Track Day and Race Day filters are manufactured in the USA and are backed by a 90-day warranty. These filters are not intended for street use and are not recommended for any off-the-shelf Cold Air Intake system that will be used in anything other than a controlled racing environment.
Use the charts below to find AIRAID Race & Track Day Filters by shape and size.
---
Universal Cone Race Day / Track Day Air Filter Chart
---
Universal Round Race Day Air Filter Chart
Extra Inner
Wire Support
Outer Diameter
(inches)
Inner Diameter
(inches)
Height
(inches)
Race Day
Air Filter